Bukayo Saka is England's only change for their World Cup last-16 game with Senegal, while Raheem Sterling will be absent from the squad due to a 'family matter'.
Saka scored twice in England's World Cup opening group-stage 6-2 win against Iran, but dropped out for their final group match with Wales – with Marcus Rashford netting a brace in his absence.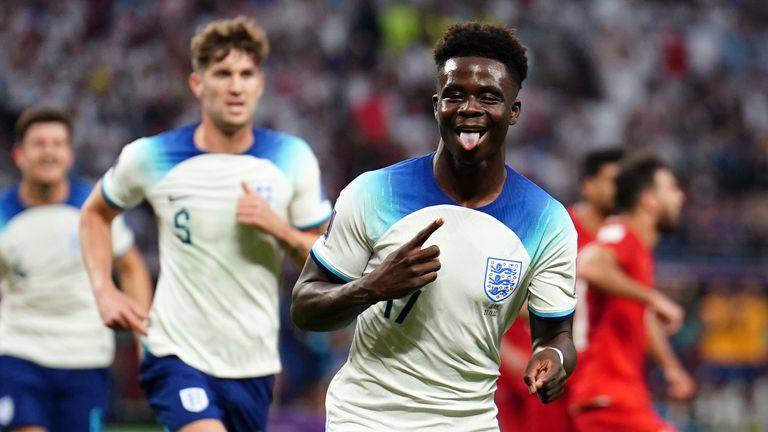 The 21-year-old winger will make his sixth tournament start against Senegal, with his latest appearance matching the three he made at Euro 2020 last summer.
England have announced Sterling – who was also dropped for the win over Wales – will not be present at the Al Bayt Stadium, as he is dealing with a personal matter.
England starting line-up: Pickford, Walker, Stones, Maguire, Shaw, Rice, Bellingham, Mount, Saka, Kane, Foden.
Subs: Pope, Ramsdale, Coady, Dier, Trippier, Alexander-Arnold, Henderson, Phillips, Gallagher, Maddison, Grealish, Rashford, Wilson.
Carra: Saka change shows strength in depth
Jamie Carragher says Gareth Southgate choosing to start Bukayo Saka in the World Cup game against Senegal shows strength in depth.

Sky Sports' Jamie Carragher:
"What Southgate has got with his four wide forwards – Rashford and Foden playing the last game with Saka and Sterling playing the two games before – I don't think there's a huge difference with what he goes with.
"The fact he can chop and change shows how much strength in depth he's got in those wide areas. I just felt that Foden and Rashford were the right ones to go with, just because they were so confident in the last game, but then again you go to the first game and you think of how good Sterling and Saka were in that Iran game.
"I'm not shocked or surprised with what he does in the wide areas because we've got so much quality there. It's the one area in the squad where there is real competition for places."
Defensive mindset the reason?
Sky Sports News reporter Rob Dorsett brings England's latest team news which suggests Bukayo Saka to start in England's last-16 World Cup clash with Senegal

Sky Sports News' senior reporter Rob Dorsett:
"There's no doubt Saka has been on brilliant form for Arsenal this season. Saka got the nod against Iran and was player of the match. He brought an energy to that attack, but also with a defensive midnset, and I think that's probably what has got him the nod today.
"Southgate knows he can rely on Saka to get back if there are any breaks, he has the pace and energy to make sure that happens, because this is going to be an athletic Senegal side.
"Nevertheless, it's a huge call."
Round of 16 – Sunday December 4
England vs Senegal – Kick-off 7pm
Quarter-finals – Saturday December 10
England vs France or Poland – Kick-off 7pm
Semi-finals – Wednesday December 14
England vs Morocco/Spain/Portugal/Switzerland – Kick-off 7pm
Saturday December 3
Netherlands 3-1 USA
Argentina 2-1 Australia
Sunday December 4
France (Winners of Group D) vs Poland (Runners-up of Group C) – Kick-off 3pm
England (Winners of Group B) vs Senegal (Runners-up of Group A) – Kick-off 7pm
Monday December 5
Japan (Cinners of Group E) vs Croatia (Runners-up of Group F) – Kick-off 3pm
Brazil (Winners of Group G) vs South Korea (Runners-up of Group H) – Kick-off 7pm
Tuesday December 6
Morocco (Winners of Group F) vs Spain (Runners-up of Group E) – Kick-off 3pm
Portugal (Winners of Group H) vs Switzerland (Runners-up of Group G) – Kick-off 7pm