A TV anime adaptation of Ren Eguchi's isekai fantasy light novel Campfire Cooking in Another World with My Absurd Skill is set to premiere in Japan in January 2023. The anime opens its official website and Twitter, revealing a teaser visual, staff, and three main voice cast members.
Teaser visual with a tagline "Good food transcends species.":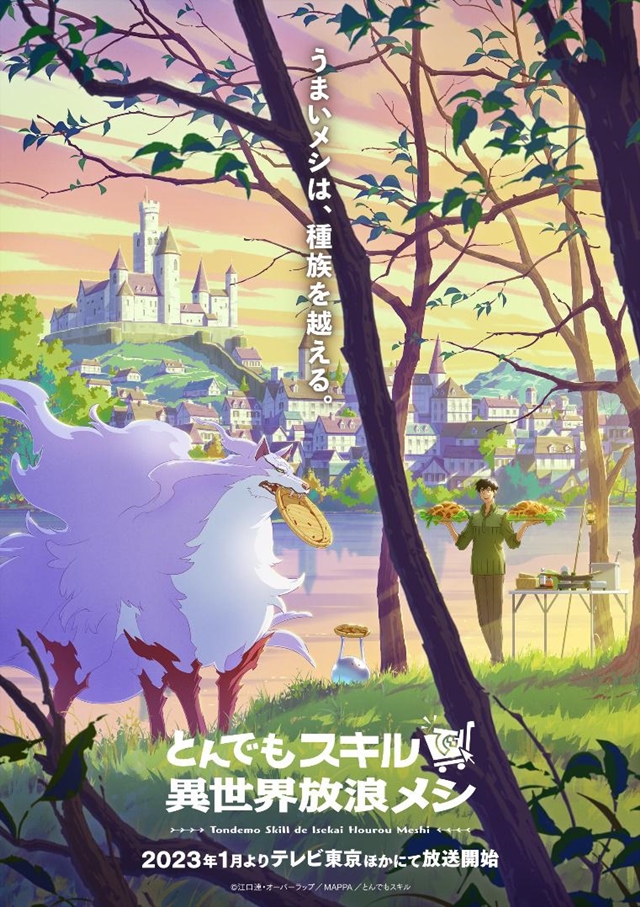 /

とんでもスキルで異世界放浪メシ

  ㊗️TVアニメ化決定㊗️

\

「うまいメシは、種族を越える。」

シリーズ累計450万部突破の『とんでもスキルで異世界放浪メシ』が #MAPPA によるTVアニメ化決定❗

2023年1月よりテレビ東京ほかにて放送????#とんでもスキル #tondemo_skill pic.twitter.com/4muWsTGkoy


— TVアニメ『とんでもスキルで異世界放浪メシ』公式 (@tonsuki_anime) October 29, 2022
The novel was first posted on the user-generated novel publishing website Shousetsuka ni Narou website in January 2016, then its print edition featuring illustrations by Masa has been published from Overlap's light novel imprint Overlap Bunko since November 2016. 12 volumes have been released in Japan so far. Its manga adaptation illustrated by K Akagishi has been serialized on the Comic Gardo website since March 2017 and has released eight tankobon volumes.
The novel's English edition has been digitally released by J-Novel Clubs since May 2019. The publisher describes its synopsis as below:
Mukouda Tsuyoshi was nothing special in modern Japan, so when he was summoned to a world of swordplay and sorcery, he thought he was ready for the adventure of a lifetime. Too bad the kingdom that summoned him only got him by mistake! Not only was he not one of the three summoned heroes, but his stats were laughable compared to theirs. On top of that, there's something really sketchy about this kingdom… "Ah, these people are the kind to try and use the Hero," he realized, and immediately left to make his own way in this other world. The only thing Mukouda can rely on is his unique skill: the "Online Supermarket," a skill that allows him to buy modern goods in a fantasy world. It's useless for combat, but if he plays his cards right, he could lead a comfortable life, maybe? At least, that's what Mukouda thinks, but it turns out modern food bought with this skill has some absurd effects! What happens when Mukouda introduces ridiculously tasty modern cooking to a fantasy world like this? He gets some ridiculous repeat customers begging for more…!
Main voice cast:
Tsuyoshi Mukouda: Yuma Uchida (Megumi Fushiguro in JUJUTSU KAISEN) – An ordinary office worker summoned to another world. His unique skill, "Online Supermarket," allows him to order products from his original world. He is good at cooking.
Message from Yuma Uchida:
The concept of skills has become familiar to many people these days, but if you wonder what kind of "outrageous skill" it is, you would never guess it is "Online Supermarket." I was taken by surprise, "A supermarket in another world…?" I remember how excited I was when I was chosen for the role because the theme of the work was cooking. This is a relaxing story that the protagonist, who is reincarnated in another world, does not help people or play an active role as a hero, but rather travels around the other world at a leisurely pace. And above all, the food in this work looks delicious! I hope you will relax and enjoy this work as a healing experience in your daily life.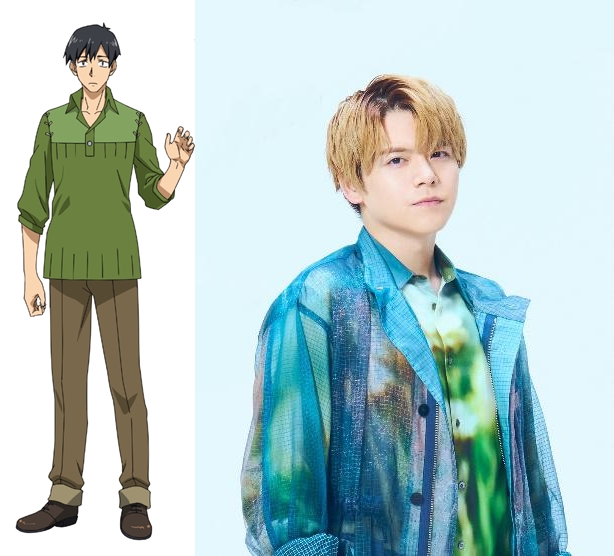 Fel: Satoshi Hino (Ainz Ooal Gown in Overlord) – A legendary magical beast with great power. He becomes a familiar spirit of Mukouda because of the otherworldly cuisine he cooks. He eats anything, but hates vegetables.
Message from Satoshi Hino:
I was very happy when I was chosen to play the role of Fel, because "Campfire Cooking in Another World with My Absurd Skill" is a very funny, heartwarming, and wonderful piece of work! At the same time, when I heard about the cast around me, I was convinced that this would definitely be a fun workplace (laughs). Fell's charm is his dignity and strength, as well as his cute and playful personality (laughs). Don't miss the way he eats and the expression on his face when he tastes the various dishes Mukouda makes for the first time! The charm of this work is the friendly interaction at mealtime! The power of a good meal is really amazing, I realize that every time. It makes me so happy when I play the role! I am sure that everyone who watches the show will feel the same way!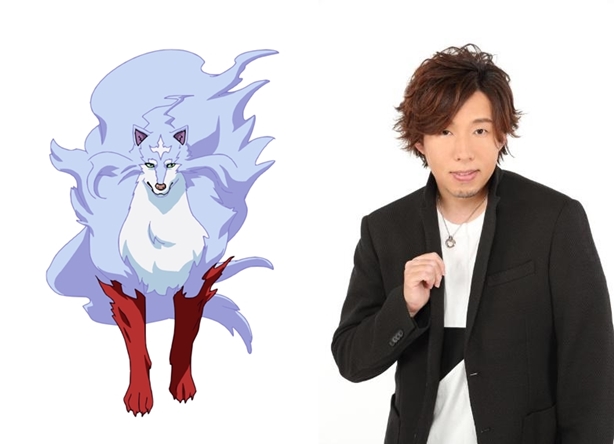 Sui: Hina Kino (Rorea in Management of a Novice Alchemist) – A newborn slime, who becomes a familiar spirit of Mukouda, who gave him food. He fights for his master, Mukouda. He is cute.
Message from Hina Kino:
Sui is a baby slime, a very cute character with a soft and fluffy body! I improvised to give him a slime-like character that is different from humans and animals. There are so many delicious-looking dishes in this work every time! I have always loved gourmet-themed works, so I am very happy to be a part of this work. I hope you are looking forward to the broadcast!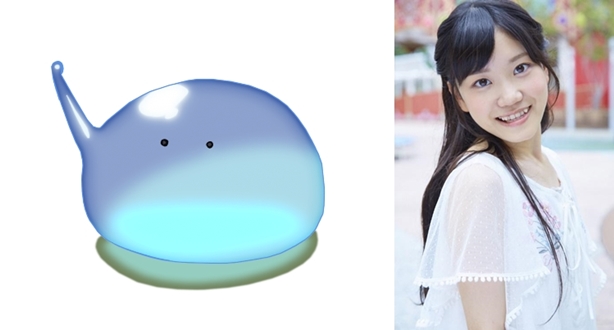 Message from director Kiyoshi Matsuda:
I am Matsuda, the director. The production team is working hard to recreate the charm of the original novel and manga in anime form. We are putting a lot of effort into not only the characters, but also the cooking scenes! We are sure that we will be able to deliver an anime that will make your stomach growl when you watch it. Whether you are a fan of the original novel or a newcomer, please stay tuned for the broadcast in the near future.
Message from the original novel author Ren Eguchi:
"Campfire Cooking in Another World with My Absurd Skill" is going to be an anime! When I heard about the anime adaptation, I didn't really feel like it was real, but as I received various materials and other information, I gradually realized that "Oh, it's really going to be an anime." I am truly grateful and honored. It is thanks to all the readers who have always supported us that I have come to be asked to make an anime. Thank you so much! I am also very grateful to Masa-sensei for his illustrations, which brought to life characters that were only in my imagination. I would also like to thank K Akagishi-senssei and Momo Futaba-sensei, who are in charge of the comicalizations. I would also like to thank the production team who are creating the animation with enthusiasm. Graciously, the anime production is done by MAPPA, a company that has produced many high-profile works. Expectations are rising more and more. I can't wait to see Mukoda, Fel, and Sui in action. Please continue to support "Campfire Cooking in Another World with My Absurd Skill"! And by all means, please watch the anime!
Congratulatory illustration by Masa (Novel illustrator, original character designer)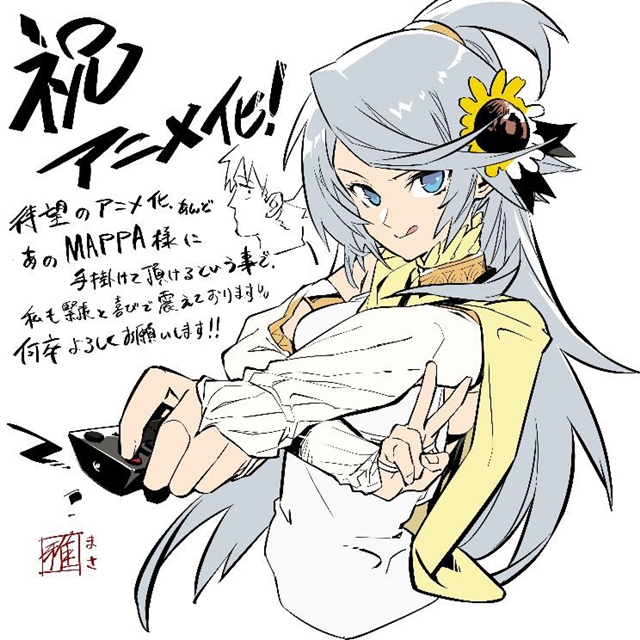 Congratulatory illustration by K Akagishi (Manga adaptation illustrator):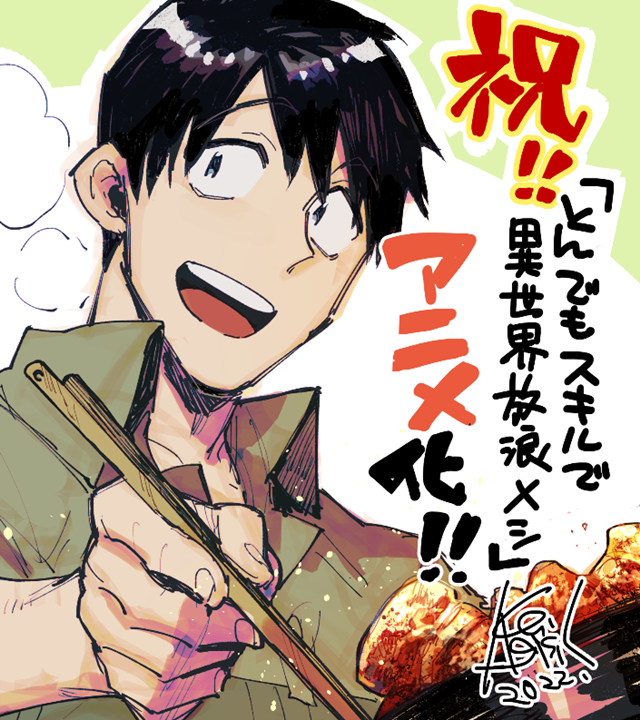 Main staff:
Director: Kiyoshi Matsuda (Kumamiko, RE-MAIN)

Series Composition: Michiko Yokote

Original Character Design: Masa

Anime Character Design: Nao Otsu

Chief Animation Director: Nao Otsu / Sara Sakoe

Art Director: Hisako Akagi

Color Designer: Chikako Kamata

Special Effects: Team Taniguchi, Kumiko Taniguchi

Director of Photography: Saho Sawada

Editing: Tsuyoshi Sadamatsu

Music: Masato Koda / Utane Utatane / Kuricorder Quartet

Sound Director: Kisuke Koizumi

Sound Production: dugout

Production/Anime Production: MAPPA
In commemoration of the TV anime adaptation, a special program featuring the three main voice cast members – Yuma Uchida, Satoshi Hino, Hina Kino – will be live-streamed on YouTube from 19:00 (JST) / 03:00 (PT) on November 3. The charms of the work will be described, and Yuma Uchida will cook for the audience! In addition, MAPPA-produced PV will be produced by MAPPA will be shown for the first time, and the cast of Ninrir, Goddess of the Wind, will also be revealed!
---
Source: TV anime "Campfire Cooking in Another World with My Absurd Skill" official website / Twitter  
©Ren Eguchi, OVERLAP/MAPPA/Tondemo Skill