Jacobs will begin his new position on Feb. 14, 2022
Jan 28, 2022
–
by Laura Snider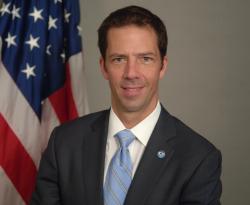 Neil Jacobs has been chosen to serve as chief science advisor for the Unified Forecast System (UFS), an effort by the broad scientific community to develop a common, open-source modeling infrastructure that encourages collaboration and eases the transition from research to operations with the goal of improving NOAA's forecast models. 
Jacobs, a former acting NOAA administrator, has been a long-time proponent for the necessity of a unified modeling system to improve U.S. weather and climate forecasting skills. His primary focus when he begins his appointment on Feb. 14 will be to foster the participation of the broad research community in the development of the UFS. 
Jacobs was hired by the Cooperative Programs for the Advancement of Earth System Science (CPAESS) and is funded by NOAA. CPAESS is a community program of the University Corporation for Atmospheric Research (UCAR).
"We are delighted that Neil has accepted our offer to become chief science advisor," said UCAR Community Programs Director William Kuo. "His vision, experience, and existing community connections will be invaluable in ensuring the UFS's continued success and, ultimately, the improvement of the U.S. forecasting system, which is critical to saving lives, protecting our economy, and bolstering national security."
Jacobs brings a wealth of experience to the role from both the public and private sectors, including working as chief atmospheric scientist for Panasonic Avionics Corporation and serving as acting under secretary of commerce for oceans and atmosphere as well as assistant secretary of commerce for environmental observation and prediction at the U.S. Department of Commerce. He holds a master's degree in air-sea interaction and a doctoral degree in numerical weather prediction, both from North Carolina State University, as well as bachelor's degrees in mathematics and physics from the University of South Carolina. 
The UFS framework spans the time scales and spatial domains covered by an array of NOAA models, from local short-term weather predictions to global seasonal climate forecasts. By enabling the applications across these scales and making the code publicly available, the UFS can leverage advancements from researchers and institutions across the country. 
"The UFS, once fully implemented, has the potential to transform our forecasting capabilities," Jacobs said. "But to be successful, we need to tap the knowledge, innovation, and ideas that exist across the Earth system science community."
Jacobs recently published an article outlining his vision for the UFS in the Bulletin of the American Meteorological Society.