Montgomery County Community College students in the Exercise Science and Wellness
program worked up a sweat testing new state-of-the-art equipment during a recent study
of their fitness level inside the Health Sciences Center on Blue Bell Campus.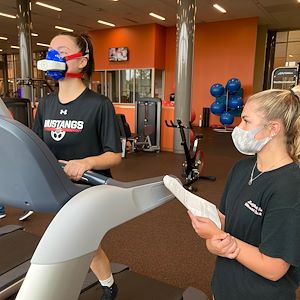 The College recently received a shipment of eight VO2 Master Pro analyzer masks, which
students wore during an experiment that required them to run on inclined treadmills
for as long as possible. The masks measure the maximum amount of oxygen a person can
utilize during intense exercise, according to Amanda Wooldridge, Exercise Science
and Wellness Associate Professor. Students worked in pairs to record the data and
analyze their oxygen consumption levels.
"This lab in our Exercise Physiology course allows students to evaluate their VO2
Max, or maximum oxygen consumption using the VO2 Master Pro analyzers," said Wooldridge.
"Maximum oxygen consumption is a measure of cardiorespiratory fitness, and the goal
is to achieve a higher VO2 max through cardio exercise."
The knowledge students learn during the lab, will help them as they each head into
a variety of different fields. Students looking to work in physical therapy, for example,
can use the experience when working with patients trying to build endurance in their
bodies, in order to perform heavy cardiovascular activities like running, cycling
or swimming again.
Before the new masks became available, MCCC relied on an older version, which included
a series of clear plastic tubes connected to oxygen tanks and other equipment to measure
VO2 levels.
The new masks now use built-in Wi-Fi technology to pair with an app on a student's
smartphone to measure and record their individual scores. Tubes are no longer required.
"Since the VO2 Master masks are calibrated to directly measure the amount of oxygen
used during exercise, students get an individualized result that helps them learn
more about their own cardiorespiratory fitness level," said Wooldridge. "It is a really
interesting lab, and the students enjoy the hands-on aspect of learning how their
bodies are working throughout these exercises in the lab setting."
"It's so great for the students just to have the technology side of it and see their
own data. It takes learning to a higher level," said Anne Livezey, Exercise Science
and Wellness Professor. "You're not just estimating; you're getting the real data.
It's pretty cool."
MCCC purchased the masks using funding from the Pennsylvania Department of Education,
provided by a 2019 federal Carl D. Perkins grant.
"We're grateful for the Perkins Grant funding," said Livezey. "We wouldn't be able
to do this without their funding. And we appreciate the College supporting our mission
to try and develop the students' learning. It's pretty exciting."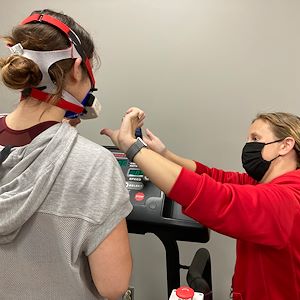 Josephine Buehler, 20, a 2020 graduate, who's studying to become a Registered Dietician
nutritionist, was curious to see how her first time using the mask would go.
"The masks are pretty tight on your head," she said. "I'm hoping I can breathe through
them. They assured me I can."
As she got on the treadmill and began moving first from a light stroll on a flat surface,
to an increasingly faster jog on an incline, she said she quickly felt the changes,
partly from wearing the mask but also from the stress of the exercise itself.
The experiment increases the incline and speed of the treadmill in three-minute intervals.
In addition to the mask, students wear a heart rate monitor to record their results.
Students on average last between 10-12 minutes, depending on their level of fitness.
Buehler lasted 11 minutes 15 seconds before calling it quits.
"You definitely feel it in your quads, your calves, I felt it in my arms," she said,
out of breath afterward. "I usually try to breathe through my nose and out through
my mouth. With the mask on it's really hard. And especially because you're going at
such an incline, it's tough. I'm not sure what I expected but it's definitely tough."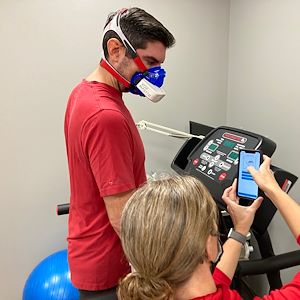 Nick Duchensky, 40, a first-year student studying to become a Physical Therapist Assistant, was on the treadmill for a second time.
"With the mask, it's a little tough to breathe, but overall it's easy. For now," he
said, as the experiment got underway. "It'll get much tougher. Breathing isn't severely
impacted."
His goal was to beat his previous time of just under 13 minutes. This time he lasted
just over 13 minutes. By the end he was much more tired than when he started, he said.
"Legs, quads, calves, pretty tired. Pretty sore," he said. "I'm not sure if, because
of the last time, I was anticipating what was coming, but going into the last interval,
I was already dreading it. I was already feeling tired. 'I don't know how I'm going
to make it.' But luckily I made it. I wanted to hit 13 minutes and I hit 13 minutes."
The experience, he said, taught him he needed to incorporate more high-intensity interval
training into his normal workout routine in order to increase his overall fitness.
MCCC's Exercise Science and Wellness A.S. program helps turn a student's passions into careers in the exercise science
field including but not limited to exercise science, exercise physiology, kinesiology,
pre-physical therapy, pre-occupational therapy, physical education, pre-athletic training,
strength and conditioning, health, nutrition, and sport, fitness and recreational
management.
---
This press release was produced by the Montgomery County Community College. The views expressed here are the author's own.