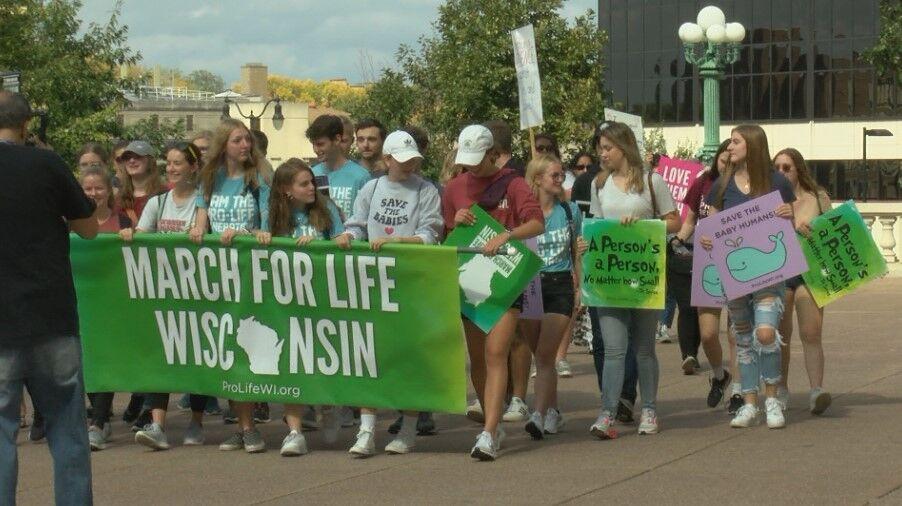 MADISON (WKOW) — While protests in favor of abortion took place nationwide and in Madison Saturday following Texas' new abortion law, Pro-Life Wisconsin also held a rally at the Capitol to make their voices heard.
The group hasn't taken an official stance on the Texas abortion law, but their Communications Director, Anna Demeuse, said the group's goal is to "establish personhood for the preborn child."
"Our hope is to really rally around the idea that every life is beautiful and human dignity is precious and should be preserved, both in our culture and in our laws," she said. "So, we hope to end abortion here in Wisconsin and nationwide."
Speaker Tallulah Caulfield agreed. 
"The day I had my first abortion was the worst day of my life and I was 16 years old," she said. "The abortionist and nurse walked in. As they began, I whimpered and asked the nurse if she would hold my hand. A look of shock spread across her face, but she agreed to my request. I squeezed her hand as hard as I could."
Lily Johnson and Jeanne Bissell marched in the other rally, which supported abortion rights and started at the UW-Madison's Library Mall. 
"We do not think healthcare and our physical bodies have any place being legislated," Johnson said. "Women's healthcare should be between a woman and her doctor."
Bisell said she believes the Texas law infringes on a woman's right to decide what's best for her body. 
"I think a woman's uterus is the only health care that is where politicians make decisions about it," she said.
Texas law bans abortions after six weeks, which is before many women know they're pregnant. The law does not make exceptions for rape or incest.