An unhealthy kid may struggle to learn in school. Unhealthy adults may work sporadically or not at all.
Families with a chronically ill child or adult may need public programs and foodbanks, even as parents work two or three low-income jobs.
Mental illness and addictions complicate a person's ability to leave a life of crime. Children exposed to violence in their home may act aggressively in school.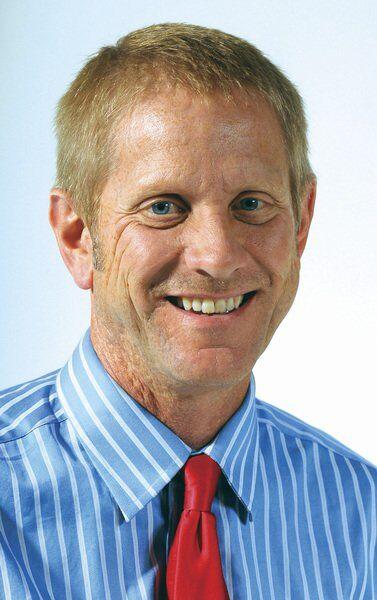 Those trends and others are documented by medical science and criminal justice sources such as the U.S. Office of Disease Prevention and Health Promotion and the U.S. Department of Justice. But anyone living in an unhealthy community or state readily experiences the consequences of such a culture, whether they realize the causes or not.
That's much of Indiana in normal times.
Then add a global pandemic. All of those scenarios intensify beyond past levels, while workers at hospitals, clinics and local health departments scramble to treat and protect the public, and try to stay healthy themselves. That's Indiana now.
Governor Eric Holcomb could truly leave a transformative legacy, if his new, one-year Public Health Commission succeeds. Holcomb and state Health Commissioner Dr. Kris Box unveiled the commission during a news conference livestreamed statewide on Wednesday. He acknowledged the state's unhealthiness, beyond the current surge of the COVID-19 Delta variant.
"You could say that this is our Achilles' heel," Holcomb said.
Yes, you could say that. Indiana has continually ranked near the bottom nationally in health behaviors, outcome and spending. The latest, the Cleveland-based nonprofit Health Action Council, ranked Indiana 42nd in June for health outcomes and spending. Like similar rankings, these were based on access to care, health care system performance, public health, prevention and the state's social, physical and economic environments.
Poor health and unhealthy behaviors affect almost every aspect of daily Hoosier life, from the reliability of the labor force to an underfed third-grader's ability to focus on their teacher's math lesson, to the overcrowded local jails.
A comprehensive inspection of that persistent problem is "long overdue," Holcomb said.
He set up a 15-member commission to spend the next year assessing the strengths and weaknesses of the state's current public health system, including the 94 local health departments' efforts through the COVID-19 pandemic. The panel will recommend improvements to the delivery of public health services, ways to promote health equity, and to ensure the sustainability of local health departments, including preparations for future health emergencies. Its co-chairs are former state Sen. Luke Kenley and former state Health Commissioner Dr. Judy Monroe.
The panel will also "address funding challenges" and propose legislative changes to address its recommendations in time for the Legislature's 2023 session. Those two tasks are big, maybe the biggest of all. Unless the General Assembly takes public health more seriously — as in, providing meaningful funding and respecting public health professionals — the commission's work will fade and Indiana will plod on with high levels of chronic illnesses, workforce shortages and high rates of kids living in poverty.
And be unnecessarily more vulnerable to global pandemics.
Indiana ranked 47th — close to last — in per-capita public health funding in 2020, according to calculations by the University of Minnesota's State Health Access Assistance Data Center, funded by the Robert Wood Johnson Foundation.
One issue Holcomb and Dr. Box both cited is the uneven funding and resources for the state's local health departments. It's a 140-year-old system with "very little standardization," Holcomb said.
Box, a Terre Haute native, described the mountainous job facing local health departments through the past 18 months. Besides organizing and staffing contact tracing, testing and vaccination clinics, the departments also must continue handling birth and death records, septic system permits, check lead levels in kids, investigate other diseases, control mosquitoes, inspect food establishments, respond to bat infestations and other routine responsibilities.
"Their resources are stretched thin in the best of times, and carrying out these required duties in the pandemic became a Herculean task," Box said.
Public health workers "truly are passionate" about their communities, she added. "They've lost sleep, sacrificed their own health, and given up time with their families to help protect others. They deserve all of our thanks, but also deserve our help."
Services, schools and businesses shut down in spring of 2020, some shifting to remote staffing. The Vigo County Health Department continued operating at the county annex building, "with even less staff because some had underlying health conditions, were of a certain age or had to stay home with their children so they were permitted to stay home," administrator Joni Wise recalled Thursday. "So we had a low number of employees before the pandemic, and then it became a skeletal crew."
She added, "We are understaffed and underfunded."
Statewide remedies won't be easy, thanks to politics and myths. Holcomb chose his words carefully when asked by a reporter Wednesday how the commission can succeed with deep distrust of health professionals (stirred by relentless social-media misinformation) among a portion of the public, and a state Legislature that — just last spring — took authority away from local health officials and the governor himself during public-health crises, such as the one we're still experiencing.
"We're going to work each and every day, all of us, on making sure that folks are best informed, most equipped to make good, localized decisions, with state support," Holcomb said, looking toward Box, Kenley and Monroe.
Insisting he wasn't dodging the reporter's question, the governor added, "I can't do anything about the global social-media myth-spreaders, but what I can do is make sure people have good, localized, trusted, verified state information. And I have never been prouder of our health care professionals — locally, at the state level, and federally — to make sure that we're putting out data that has integrity."
Indiana's reality could be a healthier, more active and productive future, if politics and myths don't block that possibility.
Mark Bennett can be reached at 812-231-4377 or mark.bennett@tribstar.com.