TUPELO • Economic damage from the pandemic remains keenly felt in Mississippi, with small businesses in the state still suffering lost sales at a higher rate than the national average.
As of Feb. 2021, 61% of Mississippi's small businesses were still reporting lower sales due to COVID-19 — 10 points higher than the national average, according to a Global State of Small Business Report released by Facebook on Thursday.
The report includes U.S. state-level data recapping the economic impacts of the pandemic, including insights on how businesses in Mississippi adjusted to uncertain conditions.
The survey of small- and medium-sized business owners and managers conducted by Facebook included 150 respondents in Mississippi.
With 61% of Mississippi small businesses reporting lower sales, the state ranked near California (59%) and Nevada (63%) as one of the top states seeing lower sales, while neighboring states like Tennessee (44%), Louisiana (48%) and Texas (48%) fared better.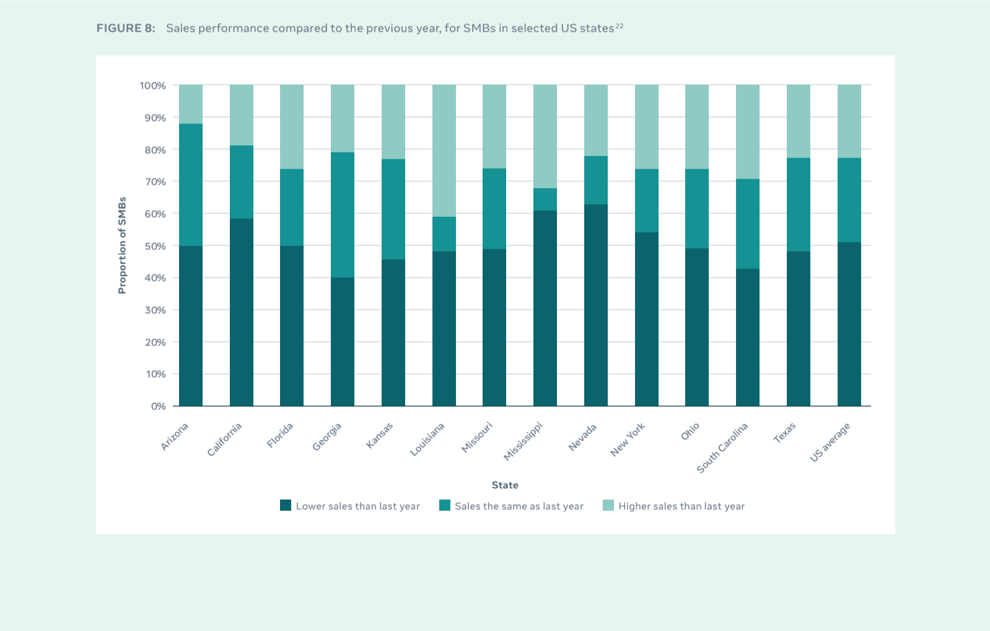 Scott Waller, president and CEO of the Mississippi Economic Council, said that while there are a lot of factors to consider with small business sales, some have struggled and others have not as they grew more comfortable with operating during the pandemic.
Businesses with a reduced workforce won't be able to operate at maximum capacity, even as COVID-related restrictions are lifted, Waller said. For example, restaurants with fewer employees to wait tables will naturally have fewer sales.
Speaking to small business owners over the past few weeks, Waller said they've told him that they can't keep up with staffing needs to be able to operate at maximum capacity.
Waller pointed out that the back-to-back winter storms that hit Mississippi in mid-February and shut down much of the state for more than a week could also have had an effect on lower sales that month reflected in the report.
On the bright side, only 21% of Mississippi's small businesses reported reduced employment as a result of COVID-19, which is six points less than the national average (27%).
Waller said he feels Mississippi fared better than the national average due to the state having less restrictions than others across the nation.
He feels the biggest concern for businesses that remained open through the pandemic has been the ability to continue operating.
"They didn't want to take a chance to not be able to operate," Waller said. "Anyone coming to work right now is a very valuable employee. They're doing everything they can to keep all of the employees they can because they need them."
Businesses finding creative ways to remain open or reopen, like curbside services offered in early-to-mid 2020 to operating with limited capacity "had a lot to do with the ability for our businesses to want to keep their workforce employed," Waller said.
One encouraging takeaway from the overall results were that 68% of small businesses across the U.S. feel confident in their ability to continue to operate and thrive in the next six months, Diana Doukas, policy manager for economic impact at Facebook, said.
"There's still an overwhelming sense of optimism," Doukas said. "Of course, that's very indicative of a small business owner and entrepreneur. They're all risk takers and have that eternal optimism, knowing that they're going to make it through."
Facebook also reported 78% of small to mid-sized businesses surveyed nationwide said they were operational or engaging in revenue-generating activities as of Feb. 2021 while only 24% expected challenges related to cash flow, and 23% expected challenges related to demand or a lack of customers in the next few months.
Doukas said Facebook's goal in conducting the survey is to help small businesses get back to where they need to be by identifying problems shared nationwide.
"We know that small businesses are having a really hard time and have been since the beginning of the pandemic, but we wanted to make sure that their experiences and exactly what the challenges are were known as broadly as possible," Doukas said. "The more information that small businesses provide about their situation, the more other companies, Facebook included, and other entities, know how to best address and support them."